How-to: Replace your Crank Position Sensor
---
This how-to will attempt to illustrate how to replace your crank position sensor. This sensor seems to be a somewhat common problem here and on the cobalt forums. My car would die once it got hot, and would not restart until it cooled down. It was throwing the codes P0335 and P0336. Replacing this sensor fixed this problem.
Doing this job yourself can save you some money. The sensor itself is only $15 (around $30 after s&h) from GmPartsDirect.com (part number 12789959). Supposedly, you have to have a crank variance relearn (sometimes referred to as a case relearn) once this sensor is replaced, but I did not have to have this done.
Items used:
- 13mm wrench
- 13mm socket
- Vice grips
- 15mm socket
- 10mm socket
- New crank sensor
- Patience
I began by disconnecting the visible hose from the nose of the intercooler pump (the pump is next to front engine mount under the car) and letting the coolant drain into a small clean bucket(so you can reuse it). I found that using a pair of vice grips to hold the hose clamps open while you try to loosen the hose from the pump made life easier. Push the hose up and towards the driver's side, out of the way.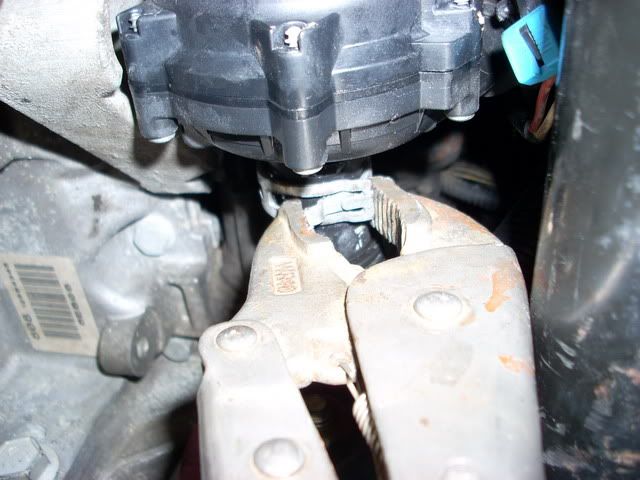 I then unbolted the intercooler "reservoir" up top, and disconnected both of the hoses from the endplate (on the side of the intake manifold) using the same method.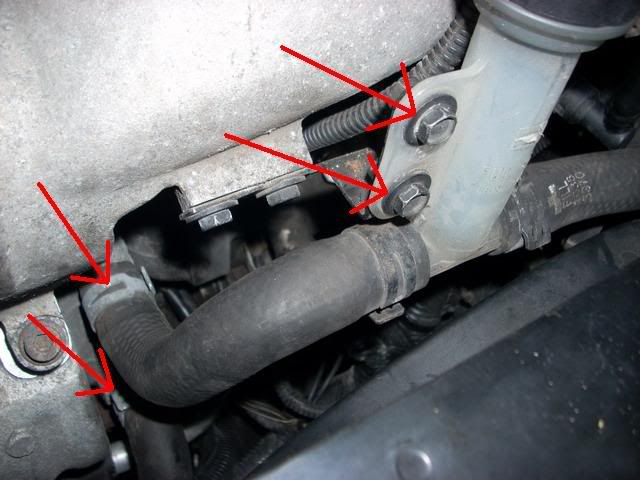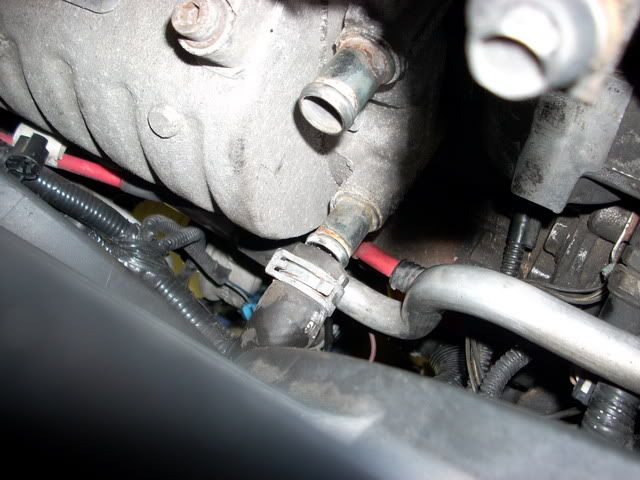 Next is removing the pump itself. First, unplug it. There's a bolt in the top of the clamp, and the bottom, the bottom one I used a 13mm wrench because a socket wouldn't fit between it and the subframe, but for the top one, you can use a standard ratchet and 13mm socket. Take the clamp off once unbolted, and push the pump toward the passenger side until it is clear of its mount, and pull it down, bringing with it the top hose.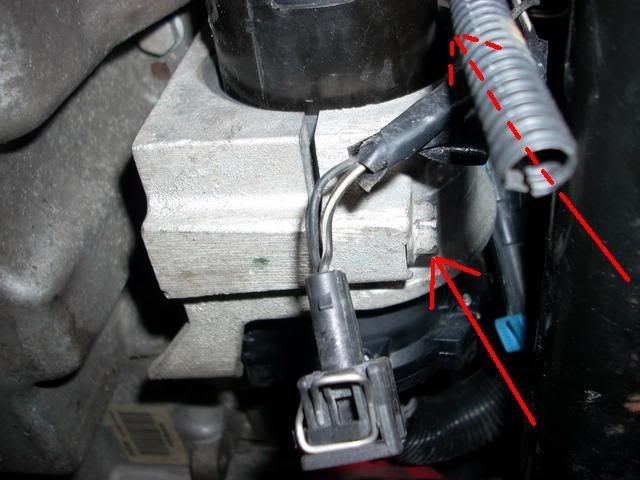 Now, using the 13mm socket, unbolt and remove the intercooler pump mount. There are 3 bolts in it.
Now you shouldn't have any problem getting to the bottom starter bolt with the 15mm socket, and the top one should be accessible through the hole you made by disconnecting the intercooler reservoir hose up top. It's a bit of a pain, but you can get it.
The bottom bolt and the top bolts are shown in the pictures below, respectively.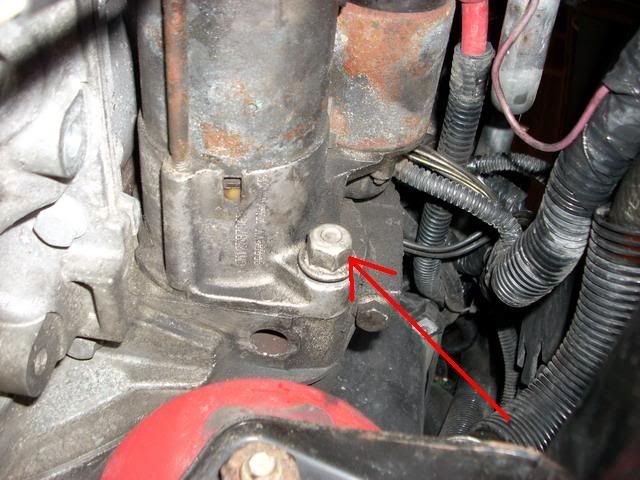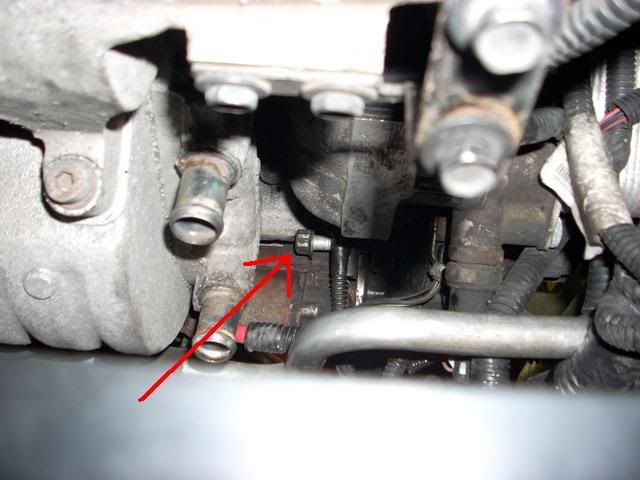 With the bolts out, the starter should be free to pull out of the transmission, but I had to clip a couple of wire ties to let it move enough to pull it out and set it out of the way on top of the subframe. You should now have a pretty clear view of the knock sensor (the wires that look like they just go to a bolt, not shown) and the crank position sensor, as shown below.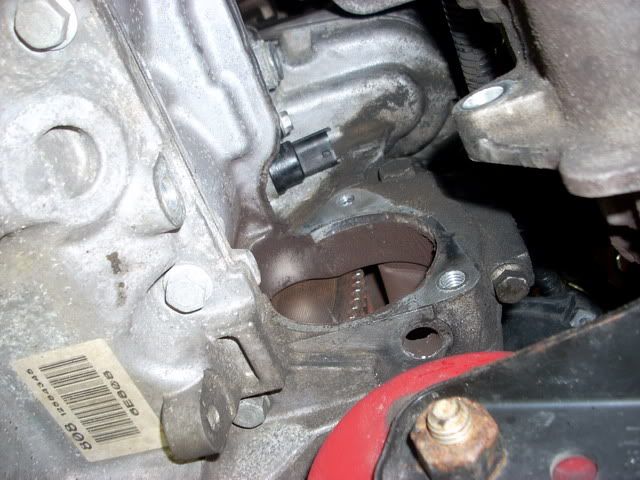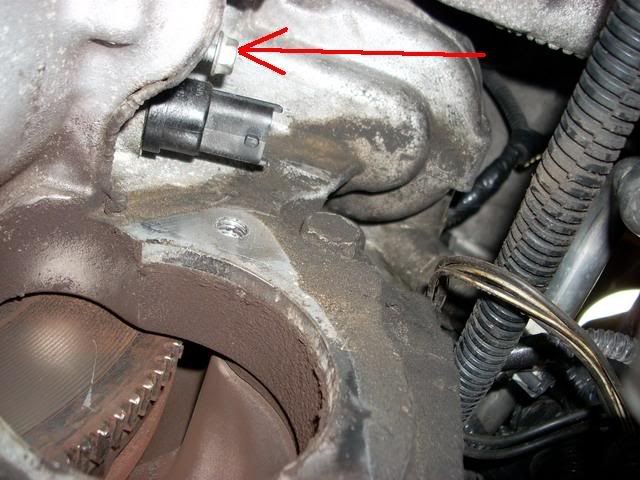 Remove the 10mm bolt securing the sensor, and twist and pull the sensor out of the block. This is what it looks like: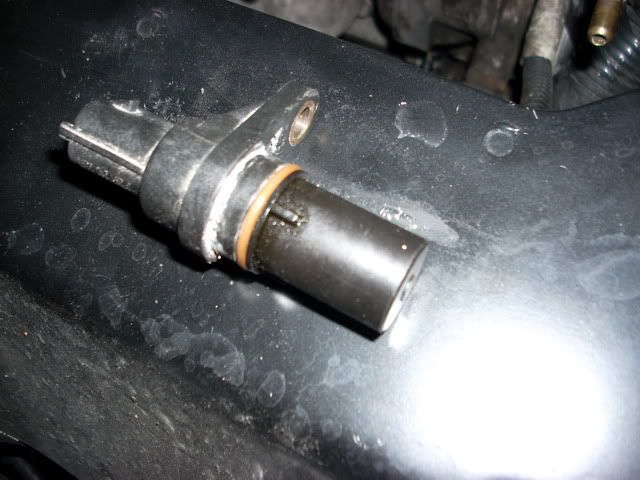 Now do everything you just did, but in reverse. I would recommend starting the car once you get the starter back on, to see if it's working and if your problem is solved. Once everything looks alright, put your pump back on and refill, bleed, etc. If it is throwing codes, get it to a dealership to get a case relearn. You should be able to drive it there without issue (from what I've been told).
Hope this was helpful. If you have any questions, let me know!
---
bLaCK and SiLVeR KnIGhTz Member #28

I'm not big on stupid how to's. but this one is good, and could be very useful
Thanks guys. Yeah, I would've used this if there had been one, it saves time just knowing for sure what you have to do beforehand.
---
bLaCK and SiLVeR KnIGhTz Member #28
good job. looks like the clutch is throwing a lot of material around lol
---
To view links or images in signatures your post count must be 10 or greater. You currently have 0 posts.
Well, I've got over 132k miles, and I'm still on the original clutch...so that might explain it, lol.
---
bLaCK and SiLVeR KnIGhTz Member #28
I just hit 132,000 today so I've cought up to you. On a side note this is my 3rd clutch
Excellent write up.
Quote:
I just hit 132,000 today so I've cought up to you. On a side note this is my 3rd clutch
Excellent write up.
Ah, you suck! I want to be the one with the highest mileage, lol...not. Stick with that clutch for a while!
---
bLaCK and SiLVeR KnIGhTz Member #28
Senior Member
Join Date: Dec 2009
Posts: 856
I found it very helpful to have a second pair of hands cause then you use a 6 inch extension on the top 15mm bolt that is on the starter and he can be on top to line you up on the bolt while your down below with the extension. very good write up.
need suggestion
---
Hello all,

I followed this step by step it, worked great!! Although I'm still throwing the code and my car idles bad for about 2 minutes before it makes a loud pop and then it is totally fine.. Runs and idles fine after I let it run its course it did this before and that's why I replaced it so would an ECU re-flash fix this problem?
Currently Active Users Viewing This Thread: 1

(0 members and 1 guests)