Discussion Starter
•
#1
•
Well after waiting 5 days for the parts to travel from Copptertop's place to a town in the wrong direction from mine, and another two days from there to my front door, I finally picked up my new sub-frame brace.
Upon first glance, I was overcome by the absolute quality of this bar. I could not get any noticeable flex in the bar, either by applying a longitudinal shear force, or a cross-sectional shear force. The welds are very strong, and appear to have good penetration.
Installation :
For anybody interested in buying or installing this brace, please be sure to read Coppertop's installation instructions, found at
http://www.redlineforums.com/forums/howto-section/28847-subframe-brace-installation-instructions.html
. It is crucial to understand and follow these instructions. Most important, is the use of Jack Stands.
Once the wheels/tires were removed, you proceed to replace the A-arm bolts one by one. The driver's side was simple and easy – you replace the bolts, and install the bar. It can be tedious, since the bolts are long and it is tough to get an impact gun in there. Just use the ratchet and have patience. I also recommend spray a bit of wd40 before you removed the stock bolts, and again once the stock bolt is removed (into the hole). Once the nuts are on the new bolts, do not tighten it more than you can by hand. You will want it loose, so you have some slack for the other side.
Pic of Drivers side with nuts tightened down:
Pic of Passenger side, with drivers side nuts tightened down, very small gap.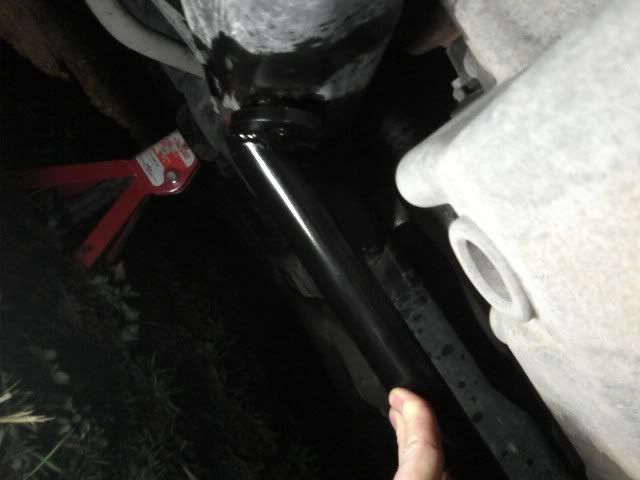 The passenger side is where it starts to get interesting. The first bolt goes on no problem. It is the fourth bolt, the one that Jeremy even states in his instructions. You will notice in this picture,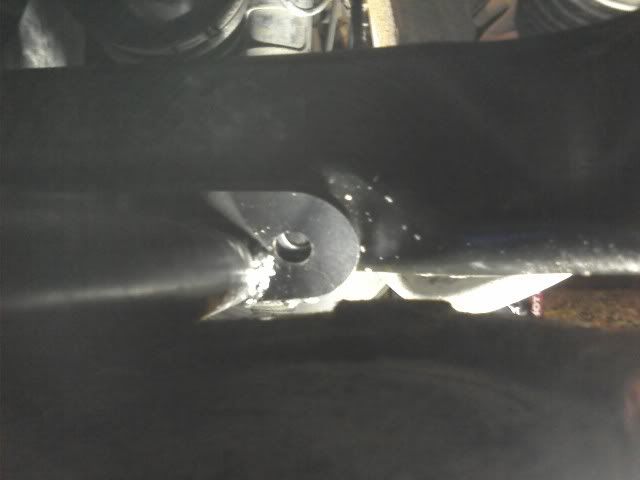 that the 4th bolt doesn't quite line up properly. It appears to be off by about 1/8". This is where the floor jack is VERY important. The seat on the jack I used has 4 small ridges that are about ¼" higher than the rest of the outer lip. I placed one of these ridges on the bottom side of the flange, as far back as possible. I jacked it up, and eventually got it close enough to get the bolt to come through. It took some finesse, and some shifting of the bar.
The little Civil Engineer in me, (I am only a Civil Technologist, not a P.Eng) says that this tight fit it a good thing. I find that it pre-stresses the bar, so steering response is incredible. (which it is)
All in all the install was about 1 hour 30 minutes, with 40-45 minute spent on the 4th bolt.
Product Review:
One word: <WOW>
The stiffness and tightness in the front end is unbelievable. When I first hopped in the car and turned out of my lane-way, my face lit up and my smile stretched from ear to ear. Ok, my mouth isn't that big.
This is a must have part for anyone into handling, and/or auto-x/road course racing.
My car had a Progress Rear Anti-Sway bar and Eibach Pro-kit lowering springs. I found that after the sway-bar install, the Redline had a bit of over-steer with just the sway bar. With this sub-frame brace, I noticed the car is back into under-steer, but marginally. Near home there is an S-curve. I first took the curve at speeds in which I would normally have considered pushing it with my previous set-up. I turned around and took the curves from the opposite direction, increasing my speed by about 20km/h. The car felt incredible. I highly recommend this part to anyone who loves to hug the road, and who can have the patience to play around with things to get them to work.
Thanks Coppertop!