Discussion Starter
•
#1
•
So I have had this on-going problem with my car since I have gotten it.
I always get this "Check Gas Cap" warning on my tach cluster.
Its now to the Point were its throwing a CEL light.
I have taken it in to the dealership once while it was still under warranty: They told me it was the Fuel Pressure Sensor.
About a week later the light came on again: I finally got fed up with it, and got an online FSM for the car.
This is what I found:
States right here that this error means there is a small and or large leak in the system.
Yes I have also replaced the gas cap, I bought an aftermarket cap, and I also just recently got a "Stock" cap from Saturn.
Still the same error.
It shows in the FSM I have 2 things to check, there is an Evap Canister under the car: I guess in side the canister there is a filter, but It does not give me a filter number for replacement.
It also tells me there is a Evap Purge Solenoid next to the motor, it shows me how to remove it, but it does not say if there is a way to check it to see if its clogged or has a leak or anything like that.
This is what I am looking at: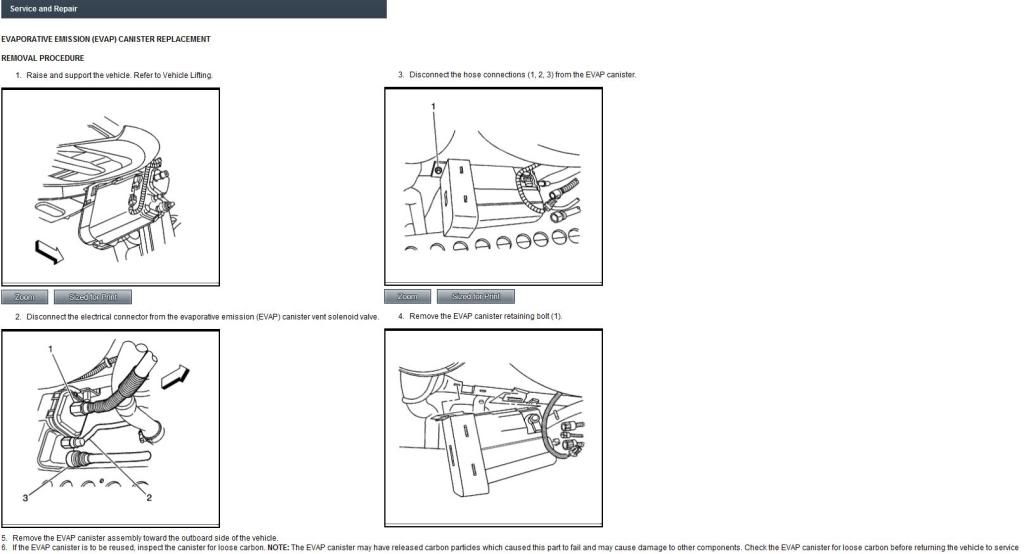 Another few things I have noticed while looking at the car.
The rubber hose that goes from the Evap Purge to the Throttlebody almost seems "Weathered" It maybe cracking and or has small holes in it, I am not sure all I know is i was pulling on it and the black rubber started turning in to dust in my hand.
I was thinking about replacing these lines, but the connectors on the end of the lines are different then I have seen before, and I don't know if I need to buy lines with these connectors already attached or if I can just buy hose and some how connect them to these existing adapters.
Any light shed on this would be much appreciated, I am pretty much stuck.
Thanks!