Tools you will need:
2 small flat tipped screwdrivers
needlenose pliers
roll of electrical tape
1- add-a-circuit
quick splice (red one) or soldering iron and solder
Remove the radio bezel (pull on the two heater vents). Unclip the wiring that goes to the hazard switch and remove the bezel from the car. To remove the hazard switch all you need is two small flat tipped screwdrivers. I used two that I have in my computer repair kit. You just need to insert them on the top and bottom of the switch near the clips (for the one side that has two clips, insert in between them). You want to go far enough so that it will separate the switch from the housing, but not too far that it will break the housing that it sits in. Once you put the screwdrivers in, just push the hazard switch until it comes out. There should be a little resistance, but if there is too much you may need to re-seat the screwdrivers. Then you will need to use this same method for the other side that has the "dummy" switch. Once you get both out, simply push the hazard light into the other side until it clicks into place. Next comes the fun part. Take the shift light and insert it into the now empty hole. See how far you want it to stick out and mark a line on it with a pencil. Then take some electrical tape and wrap it around the shift light 2-3 times at about double the width of the tape, roughly 1 1/2" (no more or it won't fit right). Then take the bracket that it came with and put it on about 1/4" behind the beginning of the tape. Then take the entire assembly and put it back in the hole. You may have to use a set of needlenose pliars to push the bracket in for a tight fit. The back of it should look something like this.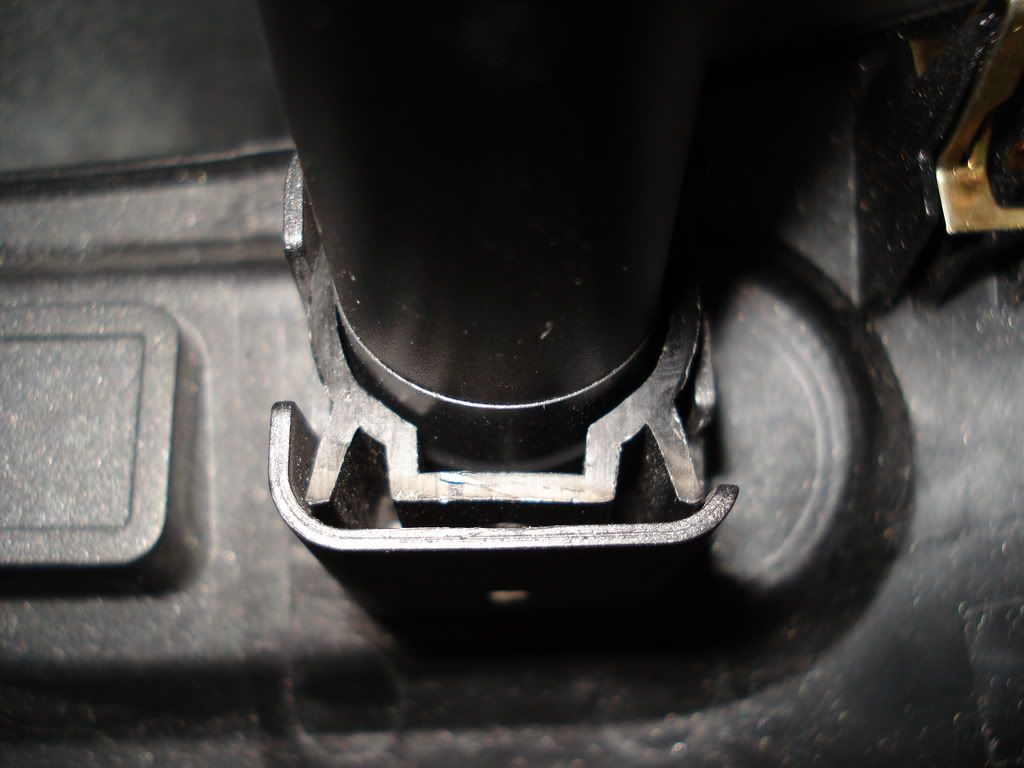 I haven't had any problems with vibrating or it moving AT ALL and i do have solid MM's.
When all is said and done it should look similar to these pictures.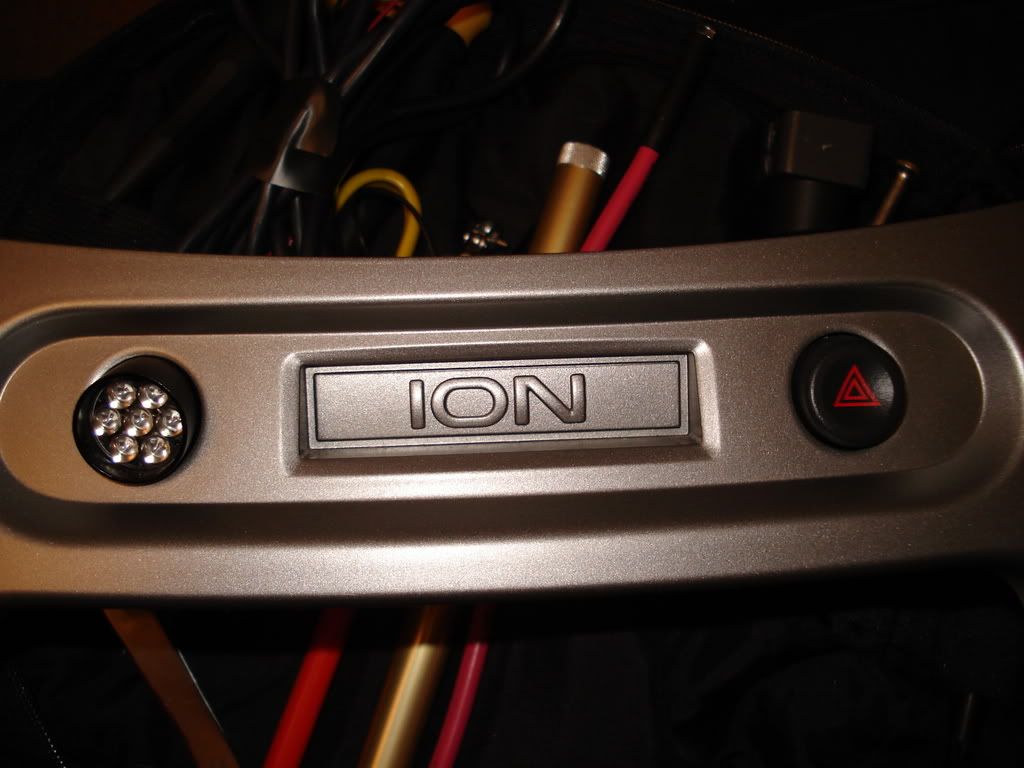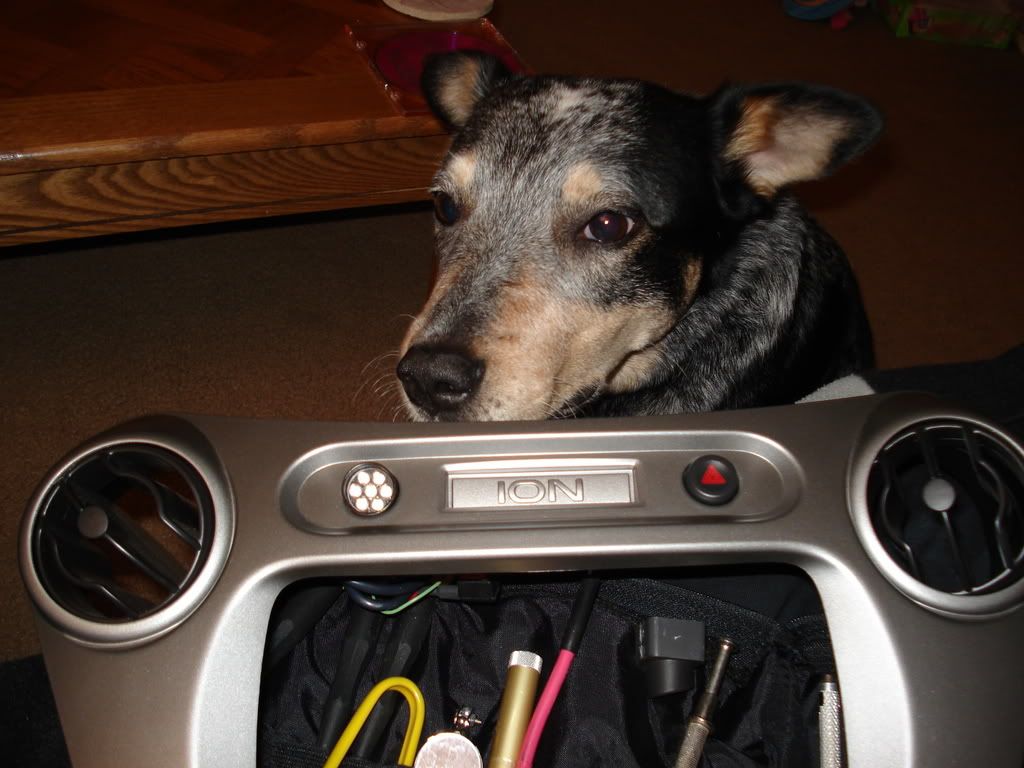 Here are some links on how to wire it up. They are both two completely different ways to do it. One involves wiring from right next to the coil, the other is doing it from a bundle of wires somewhere else under the hood.
http://www.redlineforums.com/forums/ion-picture-media-post/22712-raptor-shift-light-wiring-pics.html
http://saturnspeed.com/smf/index.php?topic=21343.0
I am trying to find a new place that is a little cleaner to solder the wires, I'm trying to make it harder to see when you look at it from under the hood. My main objective is to hide any and all aftermarket wires from the techs at the dealerships. I will edit this when/if that happens. I am also waiting on parts to come in at work. I am hoping to find a black rubber cover that will fit over the shift light for when it's not in use. Please PM me and let me know if I am missing anything.
Click here for purchase information, keep in mind that these are NOT vehicle specific. They will work on just about any vehicle.
http://www.google.com/search?q=raptor+performance+shift+light&ie=utf-8&oe=utf-8&aq=t&rls=org.mozilla:en-US
fficial&client=firefox-a
These are some of the links for purchase
http://www.raptorperformance.com/
http://www.speedspecialty.com/store/view_product.php?product=rptrshftlt
http://www.cycleoneoff.com/CBR.html
http://www.ws6project.com/user_stor/catalog/product_info.php?manufacturers_id=73&products_id=656&osCsid=5c13650a9fb64